Assisting Our Customers
Economic Impact Payments frequently asked questions
Recently, as part of the American Rescue Plan Act, the U.S. Federal Government began delivering Economic Impact Payments to eligible Americans. For information about these payments, see our FAQs below and visit the
IRS website
for further information.
---
General questions
What do I need to know about my Economic Impact Payment?
The IRS will distribute payments using the information that the IRS has on file for each eligible individual or family.

For most of the recipients, payments will be deposited directly into the same bank account that they have most recently used to receive a tax refund or monthly Social Security payment.
Others will receive paper checks in the mail, at the address that the IRS has on file for that individual.
Banks, including First Neighborhood Bank, cannot and do not provide personal account or address information to the IRS.

Direct deposits are posted for open accounts on the effective date set by the Treasury.
Am I eligible, and when will My payment arrive? Contact the IRS.
What should I do to return an Economic Impact Payment (EIP)?
How do I know if I received a payment electronically? Check your account without leaving home.
Monitor your account and take care of everyday banking needs using our Online & Mobile Banking.

Set up a direct deposit account alert to tell you when direct deposits post to your account.

Call First Touch Telebanking at 1-866-352-2265.

The description of the deposit in your account will include the word "IRS." Keep in mind, the IRS is using the same description for both the stimulus payment and income tax refund.
---
How can I deposit my paper check without visiting a Financial Center?
Download our Mobile Banking app In the app, you can deposit a paper check, using a photo image, and get confirmation immediately. *Subject to approval with certain account conditions met.

Mail your deposit with a deposit slip to any of our offices.

If you must visit a Financial Center, we encourage you to follow guidelines from the Centers for Disease Control & Prevention, including social distancing and covering your mouth and nose.
---
How can I access and use my funds quickly? Use your debit card to pay and get cash.
Use your debit card to make purchases and withdraw cash from one of our ATMs.

You can check your balance, send money to friends and family and pay bills using our Mobile app.

If you visit the Financial Centers, please expect longer lines as we ensure physical distancing and other safety measures to protect our clients and associates.
---
I received a pre-paid debit card for my Economic Impact Payment (EIP). How can I access these funds?
You should activate your EIP pre-paid debit card and create a PIN. Information on how to do this was included with the card.

Visit www.eipcard.com for more information on how to use the card, which is issued by MetaBank, N.A.
The IRS has bank information from a previous tax return that is no longer current. What should I do?
In some situations you may be able to update your account information.
Visit IRS Get My Payment to learn more.
---
Why isn't my direct deposit showing up in my account?
All direct deposit payments are posted to open accounts on the date set by the Treasury.

Visit IRS Get My Payment to track the status of your payment.
---
I don't recognize the account number the IRS sent my payment to? How do I get my payment?
The
IRS Get My Payment FAQs
can help you identify which accounts you may have elected for a tax refund, which may have included a refund through a tax preparer account or loaded debit card.
---
What happens if my direct deposit went to my closed account?
In the event that a payment is sent to a closed account, the IRS requires First Neighborhood Bank to reject and return the payment.

Visit the IRS website for more information on how to receive your payment.
---
I have questions about the amount of my payment. Who can help me?
Visit the IRS website for information regarding eligibility, requesting, calculating and receiving payments.

You can check status of your payment, payment type (direct deposit or paper check) and how to set up a direct deposit if available at IRS Get my Payment.

Our Financial Center and contact center associates will not have information on Economic Impact Payment eligibility, timing or distribution. These payments are decided and distributed solely by the IRS.
---
I still haven't received my payment. Where is it?
The Internal Revenue Service (IRS) is responsible for the timing, amount and distribution of these payments, and has stated that payments will be sent in waves over the course of multiple weeks.

Visit IRS Get My Payment to track the status of your payment.
What can I do to help protect against fraud? Take these steps.
Check the IRS website for information about your payment status and account information.

Make sure your contact information is accurate in your account.

Set up security and account alerts.

Remember, if we need to reach out to you, we'll NEVER ask for personal or financial information or an access code through email, text, or unsolicited calls.

Visit our Consumer Education or the Federal Trade Commission's Coronavirus Scam Tips for tips on how to recognize potential scams and learn more about how to keep your accounts secure.
Updated 03.22.2021
1) Mobile Banking: Mobile Banking requires that you download the Mobile Banking app and is only available for select mobile devices. Message and data rates may apply.
2) Account Alerts: You may elect to receive alerts via text or email. First Neighborhood Bank does not charge for this service but your mobile carrier's message and data rates may apply. Delivery of alerts may be affected or delayed by your mobile carrier's coverage.
3) Mobile Check Deposits are subject to verification and not available for immediate withdrawal. Other restrictions apply. In the Mobile Banking app menu, select Messages, then Mobile Deposit Customers for details and other terms and conditions. Message and data rates may apply.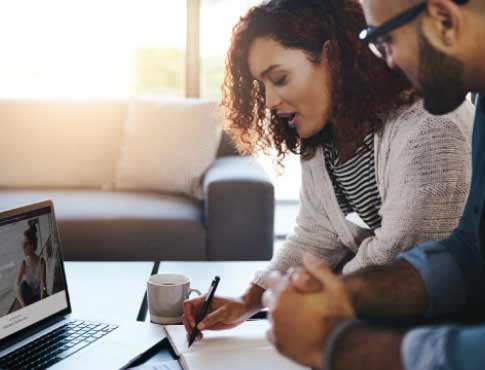 We want to hear from you
Let your opinion be heard!
We are constantly striving to provide the ideal experience for our clients, and your input helps us to define that experience. Our words and your words are what we live by, and we truly believe that banking should really feel good.